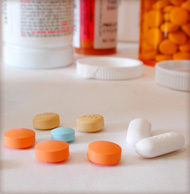 Saturday, Oct. 26, is the 7th annual National Prescription Drug Take-Back Day, which aims to provide a safe, convenient, and responsible means of disposing of prescription drugs, while also educating the public about the potential for abuse of medications.
The free and anonymous service will be available at thousands of locations across the United States, with collection sites open from 10 a.m. to 2 p.m. local time, the U.S. Drug Enforcement Administration (DEA) said in a news release.
Find a collection site near you. (Click on the "Locate collection sites" link.)
* * *
As parents, we don't want to believe our children would misuse or abuse prescription drugs, but the statistics are troubling.
Information released last spring by the Partnership Attitude Tracking Study (PATS) indicates that misuse and abuse of prescription drugs is a new "normal" among teens. Among the findings:
One in four teens (24 percent) reports having misused or abused a prescription drug at least once in their lifetime (up from 18 percent in 2008 to 24 percent in 2012), which translates to about 5 million teens. That is a 33 percent increase over a five-year period.
One in eight teens (13 percent) now reports that they have taken the stimulants Ritalin or Adderall when it was not prescribed for them, at least once in their lifetime.
Almost one in four teens (23 percent) say their parents don't care as much if they are caught using Rx drugs without a doctor's prescription, compared to getting caught with illegal drugs.
Of those kids who said they abused Rx medications, one in five (20 percent) has done so before age 14.
More than a quarter of teens (27 percent) mistakenly believe that misusing and abusing prescription drugs is safer than using street drugs.
One-third of teens (33 percent) say they believe "it's okay to use prescription drugs that were not prescribed to them to deal with an injury, illness or physical pain."
Studies show that most abused prescription drugs are obtained from family and friends, including those taken from home medicine cabinets. That's why it's so important to talk to children (ours and anyone else's who will listen) about the danger of abusing prescription and over-the-counter medicines.
According to the Partnership for a Drug-Free America, teens who report that they learn a lot about the risks of drugs from their parents are up to 50 percent less likely to use them, yet fewer than one-third of teens say they "learn a lot about the risks of drugs" from their parents.
How can you communicate this information to your teen? Here are some suggestions from New York State Department of Health:
Set an example. Use drugs as the doctor intended. Don't medicate today's headache or sore muscles with a prescription drug medication your doctor gave you after last year's surgery. Use OTC medicines according to packaged instructions or your doctor's recommendations.
Connect with your kids. Stay involved with your kids' lives as they go through middle school and into high school. Use part of your daily conversation to talk honestly about prescription and OTC drug abuse. Know the facts – clear up wrong information, but don't make it all a lecture. Listen to your children's questions and comments about their drug topics of concern.
Stop the myth. Getting high with prescription and OTC medication is not safer than getting high with illicit street drugs.
Help your child make good decisions. Your child is more likely to be offered drugs by a friend than a stranger, and exposure to drugs can begin as early as age 12. Talk with your child and empower them to make good choices and not be afraid to stand up for what they know is right. Remind your child that a real friend won't care if he or she makes the right choice and decides not to abuse these medications.
Take action. Inventory your medicine cabinets, kitchen cabinets, bureau tops or anywhere you may store medicines. If necessary, monitor the pill quantities and medicine levels in your prescription and OTC drug containers. Put drugs away out of sight. If you currently need medication, put it in a place where you can get to it easily but where your child is unlikely to look. If drugs in your house are left over from a previous condition, dispose of them as soon as possible in a safe and effective way.
Ask friends and family to safeguard their prescription drugs as well. Make sure your friends and relatives, especially grandparents, know the risks, too.
ADDITIONAL TIPS
Keep medicines in a locked cabinet in the bedroom or linen closet. They should be labeled and in their original containers. If you use medication organizers, keep those secured too.
Take an inventory of your medications so you know what you have and dispose of drugs you no longer need. Pain medications should be either flushed down the toilet, turned in to a take-back program or placed in medication-return mailers available at pharmacies. Controlled substances should be flushed or turned into a take-back program.
If you throw prescription medicines in the garbage, mix them with kitty litter or coffee grounds and put them in the garbage on the day of trash pickup.
Never tell children their medicine is like candy, and warn them not to share medicine.
Changes in children's behavior or grades can be a sign of drug abuse. If you discover that your children have loose medication, take it to the pharmacy for identification or look it up on a drug-identification website.
MORE READING