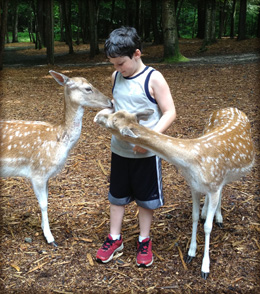 A planned trip to the Bronx Zoo was derailed when car problems made us decide we should not venture far from home one recent Sunday. The 8-year-old in our house was crestfallen, until we came up with Plan B: Adirondack Animal Land in Gloversville.
My son claims he has never been to a zoo; we contend he simply doesn't remember. Whatever the case, he was delighted with the animated monkeys and cool snakes, the many opportunities to feed animals (deer, giraffe and – through a tube – black bears, among others), and a "safari ride" that included a very up-close encounter with camels.
In the decade we have lived in upstate New York, we have never visited the site, and we had few expectations other than we would see some animals. It turned out to be one of the funniest – and fun – afternoons we have spent in months.
Whether you're looking for staycation ideas or are traveling throughout the state this summer, there are loads of fun places to spend time as a family. We asked our Capital Region BOCES colleagues to tell us some of their favorite places/ideas for families, and we've shared them below with a brief description and links for more information.
Don't see one of your favorite places listed here? Please send us an email, and we'll add it to the list.
IN THE MIDDLE
Howe Caverns is the largest cave open to the public in the Northeast. Located in Howes Cave, N.Y. (between Albany and Cooperstown, exit 22 off I-88), it is the second most-visited natural attraction in New York state (behind Niagara Falls). You can travel 156 feet below the Earth's surface and explore six million-year-old caves. Learn more about the natural world at the nearby Cave House Museum of Mining and Geology. This restored historic 1865 hotel is a high-tech, interactive museum on the past, present, and future of our geologic resources.
Close by in Cobleskill – though not as well-known – is Secret Caverns, where a half-mile, one-hour tour takes you through a natural entrance and along winding passages, past fossils and calcite formations to a 100-foot underground waterfall. You can't miss the psychedelic signs along the highway leading to Secret Caverns.
Read more about these two sites at boston.com.
If your family likes history or rural living, be sure to visit the Farmers' Museum in Cooperstown. Some favorites: "My son is fascinated by the blacksmith and print shop, and my daughter loves the animals," said colleague Tom. "My wife enjoys snooping around the working farm and talking about herbs and vegetables with the interpreters. I like the general store and the occasional homemade ice cream."
Right across the street is Fenimore House, a pretty impressive art museum – and a very cool Iroquois bark house outside the museum, next to the lake. Among the exhibits this summer:
Through September 29: The Hudson River School: Nature and the American Vision
Through September 2: The Wyeths: A Family Legacy
Through July 21: Native Roots: The 9th Contemporary Iroquois Art Biennial
Through December: Forging Perfection: Masterworks from The Farmers' Museum Blacksmith Shop
Also close by in Cooperstown is the National Baseball Hall of Fame and Museum. The Hall of Fame is home to lots of exhibits and programs that capture baseball history – a baseball fan's (or historian's) dream!
NORTHWARD BOUND
Older kids who can sit still and like trains might enjoy the Adirondack Scenic Railroad. Take a train adventure from Utica's Union Station, Thendara Station near Old Forge, Saranac Lake Union Depot and Lake Placid Station. The railroad offers some themed trips, such as the Loomis Gang Train Robbery, which leaves from Thendara Station (Wednesdays through Aug. 28) and the T-Rex Express (July 28, three departure times from Utica's Union Station).
Old Forge is home to the Enchanted Forest Water Safari, which features more than 50 rides and attractions, including 32 water rides. A great destination, but based on what we heard this may be a better destination on a day you're not traveling on the scenic railroad. For additional ideas about things to do in this Adirondack town, visit the Old Forge website.
Want to connect with nature in an amazing way? The Wild Center in Tupper Lake is an explorer's dream: hands-on exhibits that play music, make clouds, blow snow or mimic a walk on a bog, live animals and lots of activities in the Naturalist's Cabinet. The mission of the museum, which opened in July 2006, is "to help people explore and appreciate humankind's relationship with the natural world." If you go, check out "Planet Adirondack," a new show with a giant floating Earth where you can see the planet come alive, and the award-winning film, "Flight of the Butterflies," the amazing story of Monarch butterflies and their epic migrations.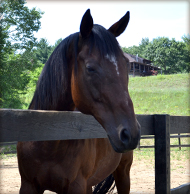 If you're heading to Saratoga for race season – or just to get away, consider a sidetrip to Old Friends at Cabin Creek in Greenfield, where retired race horses can live out their days with dignity. Admission is free, and tours are available on Saturdays during the spring, and summer tour hours begin Tuesday, July 23 (Tuesday, Thursday, Friday and Saturday, 11 a.m.-4 p.m.) Check the website for weekly updates. There are special events on Tuesdays during track season, when the track is dark.
"It's definitely a great afternoon trip," writes mom of three under-5 Monica Lester. "I would say it is best for preschool and up. And, since it is in Greenfield Center, you could make your way downtown to Saratoga and hit the carousel in Congress Park, then get some ice cream on the way home."
Discover the world of science at The CNSE Children's Museum of Science and Technology (CNSE CMOST), in Troy. CMOST is part of the College of Nanoscale Science and Engineering (CNSE), and is the only science center in Tech Valley designed specifically for kids and parents to explore the world of science together. Be sure to check out the planetarium shows.
Got a dinosaur lover in the house? Meet a 32-foot long Apatosaurus at the Museum of Innovation and Science, also known as miSci, in Schenectady. "Dinosaurs" is just one of the current exhibits at the museum, which also has daily planetarium shows.
If you're looking to get outdoors, there are plenty of hiking opportunities in the Adirondacks.
Fellow Parent Today-er Tom Antis says he hiked the Adirondacks when his older son was about 8. Says Tom: "The book 'Kids on the Trail: Hiking With Children in the Adirondacks' was recommended by our family doctor, who was also anxious to get his kids outside and active. There are many similar books available, but we found this one to be full of advice, maps and suggestions for family hiking. Although I have hiked quite a bit, it was helpful to be informed about doing it with young kids, and made our hikes more manageable and much more fun."
Grant writer Laura Whalen offered suggestions for several hikes in the Adirondacks. "They are no more than four miles round trip and though they are climbs, most have swimming nearby too!" wrote Laura.
For more ideas, see the Visit Adirondacks website.
GO WEST
Explore 35 centuries of glass and watch glassblowers make cool creations right in front of you at Corning Museum of Glass. We can hear what you're thinking as you read this: What? Kids in a glass museum? (cue smashing glass sound). That was our initial reaction, too, but kids and glass do, in fact, mix ‐ even the museum thinks so. Family programs allow kids to experience glass through storytelling, music, crafts and more (in addition to the exhibits). We think the make-your-own glass projects look pretty cool, and there are some for children as young as 4. Note: The museum advises making an online reservation before you visit, as classes fill up quickly. The other think we like about this museum? Kids' admission (age 19 and under) is our favorite four-letter word: free.
In Syracuse, the Museum of Science and Technology (MOST) features hands-on science-related exhibits, including physics, the universe and space travel, computers and telecommunications, the environment and more. The museum also includes New York state's only full-dome IMAX Omnitheater.
Dan Bader says his 2-year-old son loves MOST. "There's so much to look at and push and pull and crawl through. He doesn't really get any information from it, but we've been there twice now and he has a blast," said Dan.
The Rosamond Gifford Zoo in Syracuse is the perfect size for young elementary kids or toddlers, too. The zoo has elephants that you can pet, and a penguin exhibit with an underwater viewing area. "The penguins look like bullets zipping by. My cousin's kids particularly loved that part," Dan said.
The National Museum of Play in Rochester is all about, well play. It is both a history museum, with its extensive collections related to play, and a children's museum, with interactive exhibits including a kid-sized grocery store, butterfly garden, carousel and comic book display.
Colleague Craig Clark says the Antique Boat Museum in Clayton is worth a visit. "In addition to seeing all the cool boats, families can also take out for a row a St. Lawrence skiff for free and take a 45-minute antique speed boat tour of the 1,000 Islands," writes Craig. "There's a charge for the speed boat ride but it's worth it." Maximum number of passengers in a boat is six.
Utica Zoo offers fun for the whole family, and admission is just $7.75 for adults, $4.75 ages 3-12, 2 and under free.
While near Syracuse, you can also visit the Erie Canal Museum and climb aboard a replica canal boat, stroll the Locktender's Garden, and discover what put Syracuse on the map. The National Register 1850 Syracuse Weighlock Building is home to the The Erie Canal Museum. The weighlock is the only remaining canal boat weigh station in America.
HEADING DOWNSTATE
If you're going downstate, take your animal lover to the Ross Park Zoo in Binghamton.
The Frost Valley YMCA is an outdoor enthusiast's dream come true. Frost Valley offers an all-inclusive getaway with meals, lodging and plenty of outdoor activities.
Fort Delaware Museum of Colonial History in Narrowsburg, N.Y., offers a glimpse of the life of the Delaware Company Pioneers who settled in the Upper Delaware Valley in 1754. A tour of the facilities includes demonstrations of early settlers' lifestyles and craft-making.
For music fans, check out The Museum at Bethel Woods, which explores the 1969 Woodstock Music and Art Fair, its significance as a culminating event of a decade of radical cultural transformation, and the legacies of the Sixties and Woodstock today. The museum features personal stories and profiles as well as immersive musical and multi-media exhibit displays and experiences. There are also programs and educational events, so check out the website before you go.
Also recommended: the historic mansions in Hyde Park. In addition to the FDR site and the Vanderbilt mansion, there's also the often overlooked Staatsburgh State Historic Site. Fees to tour the mansions are reasonable and kids' admission is free or reduced. The grounds are all free and can be worth it by themselves, and there is plenty of room for picnics and lawn games.
Parent Today Facebook friend Denise Dorizas Tzouganatos suggested the Walkway Over the Hudson, a linear walkway spanning the Hudson River between Poughkeepsie and Highland. At 212 feet tall and 1.28 miles long, it is the longest, elevated pedestrian bridge in the world.
If you're headed to New York City, consider a stop at the American Museum of Natural History. This museum has a massive collection of dinosaur fossils and skeletons as well as an amazing collection of other animals (though no live ones!). "Our kids are huge dinosaur fans and had a blast. It was tough to keep up with them as they ran from exhibit to exhibit!" writes Nancy Cole. "All-in-all, it was a very cool experience for our kids to experience walking the NYC streets. Especially since they were keeping an eye out for Spiderman" – who, as we all know, lives in NYC.
Also for dinosaur fans, the Bronx Zoo has a cool dinosaur exhibit and lots of living creatures to visit. Beware, however, that the shuttle that runs within the zoo does not operate on Wednesdays, which is a discounted admission day. This massive zoo might prove tiring for little kids without access to the shuttle.
The Spaceshuttle Pavilion at the Intrepid Museum in New York City recently reopened. The Exploreum offers 13,000 square feet of interactive exhibition space, designed for kids of all ages, and kids can also experience the virtual flight zone with three simulators: G-Force Encounter, XD Theater and the Transporter FX.
OTHER RECOMMENDATIONS & RESOURCES
Local libraries are also a great spot for a staycation – stay cool and learn. Learn more about New York libraries summer reading program.
Learn about agriculture and the role it plays in our lives – and have some fair fun – at agricultural fairs across the state. Find a fair near you.
Whether you want to camp, swim, play golf or just explore, check out one of New York's 179 state parks.
Top 20 Places to Take Kids in the Albany Area
A little farther north, discover a little bit of Africa at Parc Safari just over the border from Plattsburgh in Quebec.
---
Special thanks to the folks who contributed ideas and comments for this story: colleagues Monica Lester, Erin McNulty, Cuyle Rockwell, Jennie Kerwood, Laura Whalen, Tom Antis, Christy Multer, Michele Kelly, Craig Clark, Allison Reuf, Nancy Cole, Amy McGeady, Megan Allen, Daniel Bader, Laura Ryan, Tara Mitchell, JoEllen Keenan-Gardner, and reader Denise Dorizas Tzouganatos.