It's a serious problem. Every year, nearly one-third of high school students across the nation will not graduate – that's more than 1.2 million students a year. In New York State, the numbers are better, with 74 percent of students graduating. But those numbers aren't nearly good enough, not for the children whose opportunities are limited by their lack of education, and not for society as a whole. This article is one of four in a series that addresses the risk of dropping out of school, and what we can do to make sure our students are equipped and motivated to finish strong.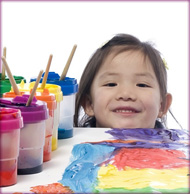 Parents don't usually look at their preschooler and think about high school graduation. But evidence connecting early education and eventual graduation might have you squinting to picture your child in a cap and gown.
Giving a child a running start at their school career seems to be the key to success. Most educators agree that ensuring children are ready for kindergarten – by way of early learning programs – is the best way to lay a solid foundation.
A recent study suggests that children who do not attend preschool are 25 percent more likely to drop out of school.
The consequences of a rocky start in school are startling. A report by ReadyNation states that children who are not kindergarten-ready are half as likely to read well by third grade. That can snowball, as children who are not reading proficiently by third grade are four times as likely to eventually drop out of school.
Debbie Gentile, who retired last year as a pre-k teacher from South Colonie Central School District after more than 30 years in education, says preschool and pre-k programs* help level the playing field for early learners. She said South Colonie has long made pre-k a priority, which may be reflected in its 90 percent graduation rate.
Gentile said that while children would enter her class at all different skill levels, the goal was to have them leave with all the tools – and the self-confidence that came with developing those tools – they needed to jump into kindergarten. "Kids should leave pre-k believing in themselves," Gentile said.
While pre-school and pre-k programs emphasize literacy, parents can play a significant role in establishing a love for language.
"Get your kids into books from the time they are teeny-tiny," Gentile said. "The kids who are involved in books and love books love school the most."
A love of learning is one of the greatest attributes of someone who's going to be successful in their school career, she said.
*While definitions vary between schools, preschool programs generally cater to a wider age range – 3-5 year olds – and emphasize social development and play-based skills development. Pre-k programs usually serve four-year old children and use a more structured curriculum as preparation for kindergarten.
Additional reading
Education.com offers a checklist for what your child should know before entering kindergarten