It's a serious problem. Every year, nearly one-third of high school students across the nation will not graduate – that's more than 1.2 million students a year. In New York State, the numbers are better, with 74 percent of students graduating. But those numbers aren't nearly good enough, not for the children whose opportunities are limited by their lack of education, and not for society as a whole. This article is one of four in a series that addresses the risk of dropping out of school, and what we can do to make sure our students are equipped and motivated to finish strong.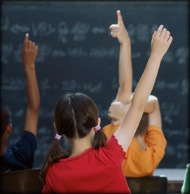 Is it possible to tell as early as first grade that a student is at risk of dropping out of school in the future?
Some studies suggest that there can be dropout risk indicators from the beginning of a child's school career.
Early-warning signs in elementary school include:
Chronic absenteeism, defined as missing 10 percent or more days of school Subtle behavior clues, such as notations on a report card of incomplete homework or class work.
Being disengaged from school, disliking going to school
Being held back a grade. (The National High School Center reports that 64 percent of students who repeated a grade in elementary school eventually dropped out.)
Falling into any of these categories doesn't necessarily mean a student will drop out, of course, but rather it signals parents and teachers to pay attention and keep these students engaged in school.
So how can parents keep their children on a path toward graduation?
Make sure your child is in school
Parents should place a high value on regular school attendance. One study estimated one in 10 of the nation's kindergarten and first-grade students were chronically absent, a critical time in getting their education off to a solid start. Research points to chronic absence as a strong predictor of who will eventually drop out of school.
Good attendance practices should be established in elementary school, and parents should make school a priority, said Terry LaFountain, principal of The Learning Community at Broadalbin-Perth Central School District, which houses students in pre-k through second grade. "At this level, it's the parent deciding whether the child is coming to school," she said. "If kids see their parents are invested in education, children realize they should be, too."
Emphasize the importance of reading
Reading with your child should be established early as a routine. LaFountain said children who are read to before they are kindergarten age have a better vocabulary with which to begin their formal education. "Though reading is a skill; parents should project it as something fun. To build up solid literacy skills, 20 minutes of reading with your child a day is a good goal," she said.
Retired teacher Debbie Gentile, who for many years taught third grade in South Colonie Central School District, pointed to that grade level as a critical step for literacy. It is a time when children should be transitioning from learning to read to reading to learn.
Studies show children who are not reading proficiently by third grade are four times more likely to drop out.
Gentile pointed out, however, that there's always room for a late bloomer. She recalled a student who needed remedial reading instruction in third grade who later attended Clarkson University and become an engineer.
Keep it positive
Gentile said parents should continually encourage children when they struggle. "One of the most important things is to know that somebody believes in you," she said.
Her advice to parents, especially if a child is having a tough time in school: Establish a partnership with your child's teacher. Because kids don't always tell you when things aren't going well, it's important to keep in close contact with the teacher.
Gentile offers the following tips for parents to help keep their kids on a path to success:
Be sure there is always something in the house for children to read.
Proper rest and nutrition are important to performing well in school.
Give kids a quiet environment for homework.
Pay attention to the stuff that comes home in your child's backpack.
Help your child organize materials; it's an important life skill.
Discuss with your children appropriate behavior for school. School should be fun, but children should understand school time is learning time.
Schenectady School District Superintendent Laurence Spring cautions parents about the way they reward and critique their kids. "When our children do well on a test or assignment, we often tell them, 'wow, you must be really smart.' "
But if they don't do well, does that mean they are not smart?
Instead, Spring said, parents should reward children for their effort. "We need to show kids that they are successful when they work hard. It reinforces that hard work is what gets you smarter, and we should give positive reinforcement for working hard."
Encourage extracurricular activities
Studies show that kids who get involved in and feel connected to their schools and communities tend to stay in school.
"Students who identify with any sort of group in their school community are more likely to have the peer and familial support to stick with school, even with academic and/or personal risk factors," said Heidi Green, director of counseling services at Fayetteville-Manlius High School.
The Queensbury Union Free School District set a goal this academic year that all students in grades four and higher get involved with extracurricular and service activities either in or out of school. Kyle Gannon, principal at Queensbury's William H. Barton Intermediate School, said teachers keep a log of afterschool activities each of their students are involved in. For any student who isn't plugged into something, faculty members call the student's family and find something that aligns with the child's interests.
Last year, more than 99 percent of students at Barton participated in some program outside of school. The results were similar district-wide.
"Whether it's a club or rec department offering, every kid in this district gets involved in something," he said. "We want to make sure every child feels connected to the community."
Instill high school graduation as a goal
Schenectady City School District ingrains graduation as an absolute for students by reminding them of their graduating class year; for example, this year's kindergarten students are members of the Class of 2026.
Other schools point early on in students' careers to the end-goal of graduation. At Gloversville Middle School, all students sign their names to a large banner with their class year on it. It serves as a reminder each day as they enter school that going on to high school and finishing strong is expected of each and every student whose name appears on the banner.
Additional reading