It's a serious problem. Every year, nearly one-third of high school students across the nation will not graduate – that's more than 1.2 million students a year. In New York State, the numbers are better, with 74 percent of students graduating. But those numbers aren't nearly good enough, not for the children whose opportunities are limited by their lack of education, and not for society as a whole. This article is one of four in a series that addresses the risk of dropping out of school, and what we can do to make sure our students are equipped and motivated to finish strong.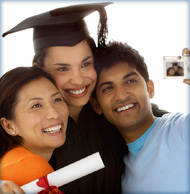 The first signs that a youth is in danger of not finishing high school likely will have surfaced before freshman year. But at this stage of the game, getting and keeping at-risk kids focused on the endgame has reached the pinnacle of importance.
The transition to high school can be especially bumpy for a student who has already struggled academically.
Schenectady High School, a city school with about 3,000 students, eases kids into the high school atmosphere by way of a ninth-grade academy.
"It's a very vulnerable time for students. There's a big social adjustment and structure changes," says Schenectady Superintendent Laurence T. Spring. "Students can easily become anonymous."
The ninth-grade academy combats that by giving freshmen their own wing of the high school with a goal that they be known to a small group of core teachers. Freshmen in Schenectady also take a course on how to be successful in high school.
When high school students fail classes and start slipping behind their peers, it presents a new set of challenges for parents and school staff.
In high school, the technical part of catching up on credits isn't the hardest part, Spring said. Schedules can be accommodated so students can redo a class they failed.
More important is figuring out why a child failed a class. Learning is effort-based, Spring said, and most of the time, kids who are failing classes are the ones who are not trying very hard. "We've got kids who have experienced school failure and stopped trying, or stopped trying and experienced failure."
Parents and teachers have to work with these students to figure out how to get them to invest the necessary effort, Spring said. "We are ultimately responsible for coaching these kids to success."
Students need clear goals
For some students headed toward dropping out of school when they are 16, the problem can be that they don't envision themselves doing anything in the next five years. Encouraging kids to have a long-term vision can help them see how high school graduation will get them to that job they are thinking about.
Gloversville Middle School Principal Mark Batty, who was an assistant principal at Gloversville High School for five years, says he has taken at-risk kids to a local community college to see what the atmosphere there is like. Most have told him they like it and can see themselves fitting in there. The problem, he says, is they don't believe college is possible for them.
"I tell them, 'You just have to graduate from high school,' " he said. "When they understand what it takes, it seems attainable."
College isn't right for everyone, but finding out students' interests for future employment and mapping out a clear path to get there gives them reason to stay on track toward graduation.
"Sometimes the reason kids lack ambition is that they need someone saying, 'you can do this — you can be this,' " Batty said.
Terry LaFountain, former high school guidance counselor at Broadalbin-Perth Central School District, said ninth- and 10th-graders can get aggravated by the lack of course choices early in their high school careers. "You have to help them to see that lots of individualized options exist and that education will soon turn into what they like to learn instead of what they have to learn," she said.
Is all hope lost once they turn 16?
State law requires students who turn 16 during the school year to finish that year of school. But once a child turns 16 and has decided to drop out, the likelihood they will put any effort into the rest of that year is slim.
"They know that if they outlast the school, there is nothing legally to get them to come to school," Batty said.
But even 16- and 17-year-olds need parental consent to drop out of school, so this is certainly a time when parents can step in and exercise their parental rights.
Batty emphasizes that parents should stay the course. "Never give up on your children and their ultimate success in school, which is high school graduation."
Parents also should lean on resources at school if their teenager expresses a desire to drop out of school. "Don't go at it by yourself," says Schenectady Superintendent Spring. "Find out who else can get involved in that conversation and help develop a plan to get your child back on track."
Finding what works
Stacey Delaney, the junior-senior high school principal in Schoharie Central School District, recently completed her doctoral research project on how intervention strategies are affecting the graduation rates in rural school districts in New York.
She found that one of the most successful interventions was to provide students who are struggling in a traditional classroom setting with alternative ways of learning the material and completing the work.
In her own district, which is working to improve its graduation rates, summer school helped students catch up on courses so they could stay with their graduating classes.
However, a credit recovery program that tailors courses to a student's needs is seeing even more success. "It's a way to learn differently; they can take the course on the computer," Delaney said.
These self-paced courses are overseen by a teaching assistant. "Not everybody is a traditional learner; some are more visual, and some are more auditory," she said. "Students don't all fit the same profile for learning."
Parents should work with their child's school guidance counselors to come up with solutions that might be outside the box but will still meet the requirements to pass the class.
Overcoming obstacles
Kids can usually persist through difficult situations, such as poverty and family instability, but those risk factors can increase their vulnerability to crisis. "When these children experience a traumatic event, it can be the tipping point," Spring said.
Teen pregnancy, family financial hardship or legal trouble can take students out of school for an extended period of time. Spring said these students and their parents should meet with a guidance counselor to come up with a plan to get back to school. "When you come back, let's make sure it's not a god-awful overwhelming experience. Let's look at what will make it difficult and see what resources are available. Let's problem-solve together, not perpetuate the cycle."
In some situations, parents might depend on an older child to watch younger siblings while they work. People aren't aware of the connection between attendance and graduation, but kids who attend school less than 80 percent of the time are at extreme risk of dropping out, Spring said. "For a lot of families, missing one day of school a week doesn't seem like a lot. There is not a widespread awareness that missing one day of school a week is an attendance crisis. The aim for attendance should be 95 percent."
Spring said students who grow up in a community with high poverty and trauma might have a hard time seeing how school success will contribute to life success. "We need to help them see ways in which their effort will be rewarded in ways they value."
One way the Schenectady City School District, whose graduation rate has hovered around 60 percent, is working to make sure youths value graduation is through the "Undroppable" campaign. Undroppable is a national movement that showcases in YouTube videos students who have persevered to get on track and stay on course to graduation. A number of students in Schenectady have made videos for the campaign.
Among them was Tia Ashburn, who had a baby while in high school. She said she initallly had trouble balancing parenthood and attending high school. "It was really hard, I struggled a lot, I was late a lot and missed a lot of days in school." But Ashburn adjusted to getting up early to get herself and her infant son out the door every morning. "I'm dedicated fully; I have to graduate. I'm in 100 percent."