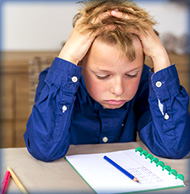 Number bonds. Tape diagrams. Counting up.
I sometimes feel like my third-grade child is speaking a foreign language when he asks for help with his math homework.
"Um, what does that mean?" I ask. He can't always explain.
"Didn't you learn how to do this today in school?" I ask. He shrugs.
Completing math homework-the actual task of sitting down without argument-has gotten easier with each grade level. First grade was our biggest struggle. Homework was new. Our routine was changing.
No longer coming home to immediately play, have snacks and watch some TV until bedtime, my older son had to sit still, focus and do more schoolwork while his brother played on the floor nearby.
That frustrated him. I bought a book of preschool appropriate lessons so both boys could sit at the kitchen table doing homework. That helped some.
But, when my older son said he didn't know how to do his homework, I was often at a loss for how to help him. He would get upset, worried I was mad. He worried his teacher would be mad or that he would miss recess the next day if his homework wasn't complete.
We would go around and around, sometimes for almost an hour. It was frustrating and exhausting for both of us.
Many parents find themselves in similar situations. What should they do?
"I get asked often, 'What would be a reasonable amount of time for me to expect my child to complete their homework?'" said Janice Schue, assistant superintendent for instruction/special education at the Jordan-Elbridge Central School District.
An easy benchmark is 10 minutes per grade level, she explained. If it's taking more time than that, she suggested parents write a note on their child's homework letting the teacher know how much was completed in the appropriate amount of time for their child's grade level.
Schue said that reaching out to your child's teacher is critical if the child is struggling with the homework's content. Teachers will often work with parents and children to adjust assignments (maybe the student only has to answer five instead of 10 questions) or suggest resources to make homework time less challenging. Teachers often suggest websites, and some districts even have videos on their school websites detailing how to complete math problems.
Those short, sometimes 30-second videos, have made a world of difference for my son and me. When he gets stuck on a math problem, I use my smartphone to look up the video on his school's website that corresponds to the lesson, and we watch it together. Not all schools post such videos, but there are websites, such as www.khanacademy.org, that have similar resources, Schue said.
One goal of homework in the early grades is to teach children responsibility, to help prepare them for later grades-and life, Schue said.
"No matter what you do, there is going to be an expectation to complete a task from start to finish without any prompts," Schue said.
Typically, students are responsible for making sure their homework gets in their backpacks at the end of the school day and that those backpacks make it home and back to school the next day–with the homework inside and completed.
Homework allows children to work on their independence. They should be practicing skills they learned during that day's classroom lessons and shouldn't need a parent to teach them.
"The application of those skills is where a parent's role can really kick in," said Lauri Kent, director of elementary curriculum and instruction for the Gloversville Enlarged School District.
Asking children to use math in their everyday life allows them to problem solve and reinforces what they have been learning. For example, giving a child a plate of six cookies and asking the child to give half to a sibling requires the child to count the total and then determine what amount makes up half.
Children are being taught to be flexible in their thinking, that there is more than one way to solve a problem. This skill will be required of them whether they follow a college or career path, Kent said. Students and workers today are expected to think outside the box and to generate new ideas and solutions, and flexible thinking will help them do that, Kent said.
"They will be the problem solvers of the future," she said. "Homework is helping to build that skill."
My son's daily 20-minute reading assignment for homework was a battle at first, as well. Until recently, he didn't like to read and exhibited little interest in reading on his own.
If children resist reading, Kent suggests offering a variety of topics and types of books, including fiction and nonfiction. Allowing them the freedom to select something they are interested in makes a big difference, she said.
I kept offering different books, hoping to pique my son's interest. Just when I was about to throw in the towel, we discovered a book he really liked. I was stunned, and so excited, the first time I saw him sitting on his bed, reading the book to himself.
We also created a special space in his bedroom with his favorite blankets and stuffed animals and some pillows. We call it the "book nook," and it's his spot to go when he reads. Now I get little push-back when I tell him it's time for his reading homework.
Creating a quiet, comfortable space for students to read and write makes the activity inviting and enjoyable, which means children are more likely to engage, Kent said.
"Allow it to be fun," she said.
Homework tips
Find a routine that works for your child. Snack and play first, then homework or vice versa?
Create a quiet space with as few distractions as possible and the tools needed to complete homework tasks (items such as pencils, erasers, rulers).
Take short breaks, if necessary.
Keep an eye the clock. If you're spending more than 10 minutes per grade level, let your child's teacher know.
Wondering what your child should read?
Need help practicing key skills of the Common Core Standards?
Engageny.org offers these:
Math Magician: Online games from Oswego City School District that teach math.
Granny Prix is a fun activity that helps students work on fluency.
Diaper Derby is a fun activity that helps students work on fluency.
Math Apps for the Ipad
Dare to Compare, a part of the Kids' Zone website, contains questions from the Trends in International Mathematics and Science Study (TIMSS), the Civic Education Study (CivEd) and National Assessment of Education Progress (NAEP).
New York Online Virtual Electronic Library (NOVEL) is an online library of hundreds of magazines, newspapers, maps, charts, research and reference books that are available to every New Yorker, free of charge.
---
Nancy Cole is a public information specialist and grant writer for Capital Region BOCES. She lives in Onondaga County and has first- and third-grade sons. She loves when her sons read in their "book nook" because it gives her a chance to read too-all the mail that has piled up on her kitchen counter.
Copyright ©2015 by Parent Today and Capital Region BOCES; Used with permission.