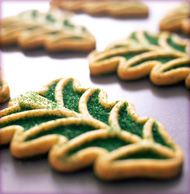 Everybody looks forward to the holidays, don't they? All those people with happy faces in TV commercials set the tone, racing through the stores weighed down with giant shopping bags loaded with gifts – sale after sale after sale. The frantic pace starts before the Thanksgiving turkey has even cooled. Stress levels rise. There are, after all, only a few shopping days left. For parents, the pressure mounts to fulfill the specifics of their children's wish lists.
Let's just stop! Can we rethink what the holidays are really all about?
Everyone above a certain age remembers Bob Hope and his annual Christmas tours to entertain American troops stationed overseas. He wisely said, "When we recall Christmas past, we usually find that the simplest things give off the greatest glow of happiness."
Maybe we all need to ask ourselves one question: Does our usual celebration focus on what we feel is most important about the holidays?
If you thrive on the hectic pace and shopping fever of the season, this article may not be for you. However, if you wish your Christmas could be simpler and more meaningful, read on.
The season has always been a big deal in our home, even growing up when we had very little money for gifts. I have great childhood memories of the holidays, but the gifts I did receive are really not a big part of those recollections.
I'm not suggesting we do away with gift giving. I confess that I have an Amazon wish list of my own. But as parents, is the example we set for our children every December based on personal greed and rampant spending, or can we offer something more meaningful?
"We've got to re-examine this weird idea of saying 'I love you equals X amount of money,'" Ken Weigel said. He is a founding member of the Advent Conspiracy, an international movement to restore a stress-free Christmas by substituting compassion for consumption.
"What everyone really wants is to be loved and to have time with the people they love. Nobody lies on their deathbed and says, 'I wish I had more toys,'" Weigel said.
At our house, we try to balance the giving of toys and store-bought things with homemade items and food, or gifts of time, experiences or charity.
Who doesn't love homemade pie, or cookies, or salsa, or preserves? All are appreciated much more than some random bought-it-because-I-had-to-get-something item from the mall. One special childhood memory is of my mother and us kids making dozens of Christmas cookies. Below is an easy recipe for a memory you can make with your children.*
Consider gifting a few hours of babysitting, snow shoveling or lawn mowing, or the offer to paint a room. The value of these "time" gifts will last well beyond Boxing Day.
Or, make a memory with your children. Instead of one more year of just ripping into wrapped boxes, plan a special destination or event for everyone to enjoy. A gift certificate to a favorite restaurant or a membership to a special museum can set the stage for memorable experiences.
We used to struggle to find appropriate gifts for close relatives who don't really need anything. Our children came up with the idea of donating to Heifer International or WorldVision in their aunts' and uncles' names. Under the tree, the relatives found a card that thanked them for donating a cow, chickens, school and health supplies or a freshwater well to people in need around the world.
Christmas should be more about giving than getting. As adults, we understand and value the giving part, but for our children, that is a lesson that needs to be taught.
I know that as much as my son desires the newest Lego set right now, in a couple of months there will be a new can't-live-without-it item. And while we enjoy giving gifts to our kids (the Lego Nijago set – his one big gift – is safety stashed in a secret spot in our house), we work hard to emphasize the attitude of giving over getting with our children.
We make a point of giving, not just over the holidays, but all year. It's easy over the holidays. Gifting is in the air. Food drives, bell ringers and other opportunities for charity abound. But we want our children to know that the need exists every day.
We get our kids involved. They donate their older toys and give – willingly – from their own savings to sponsor a child and to buy a gift for another needy child their own age. Even though they are only 10 and 11, they are old enough to ladle potatoes or gravy for holiday meals for shut-ins. They don't forget these opportunities.
We keep it secret. Charity shouldn't depend on who's watching. We teach our children there is no gift when we expect gratitude or appreciation for our giving. You can't give with grace when you are thinking of yourself first. So we give many gifts anonymously.
We offer our children the chance to experience sacrifice in order to give. We have some, but lots of people have nothing. We willingly do with less, so others can have some too. Weigel gives an example. "Say the family has an extra $200 they had planned to spend on a Wii, but the neighbors don't have heat, or the homeless don't have food, or a family at church doesn't have Christmas gifts. Do we want to give the neighbors heat, or the homeless a few meals, or the family who is down on their luck some stuff they need…or do we go buy the Wii?"It is a hard lesson for our kids to appreciate, until they realize that what they gave up helped someone who really needed it. And that realization then becomes a gift for us.
So this year, in the days we have left before Christmas, focus on what really matters for you and your family. Leave some blank spots on the calendar. Breathe. Relax. Watch a holiday movie, read a story, bake some cookies.* Remember, Christmas doesn't come from a store.
A good movie. Everybody has his or her favorite, but "A Charlie Brown Christmas" has been setting us straight about the true meaning of the holiday for more than 50 years. OK, it's not really a movie, but let's not split hairs.
A good book. With kids, you can't go wrong with "T'was the Night Before Christmas," "How the Grinch Stole Christmas," or "The Polar Express." There are many others. The literary classic, "A Christmas Carol," by Charles Dickens is a family favorite. But for me, the best holiday reading is a short story by Truman Capote. "A Christmas Memory" perfectly and poignantly focuses on friendship and the joy of giving. I read it at least once each holiday season, and tear up at the ending every time.
Some good cookies. My Grandma called these refrigerator cookies.
Makes about 50 cookies
2 sticks (8 ounces) unsalted butter, at room temperature
2⁄3 cup confectioners' sugar, sifted
2 large egg yolks, at room temperature
Pinch of salt
1 teaspoons vanilla or almond extract
2 cups all-purpose flour
Some flavor options:
Mix in ½ cup mini chocolate or peanut-butter chips
Mix in grated zest of 2 oranges and ½ cup dried cranberries (finely chopped)
Mix in grated zest of 2 lemons; coat with or mix in ¼ cup poppy seeds
Mix in ½ cup chopped dried apricots; coat with or mix in ½ cup finely chopped pistachios
Mix in ¼ cup finely chopped candied ginger; coat with or mix in ¼ cup sesame seeds
Swap ¼ cup of flour for unsweetened cocoa
Swap ½ to 1 cup of flour for ground almonds, pecans, hazelnuts or walnuts
Put the butter in a mixing bowl and beat at medium speed until it is smooth. Add the sifted confectioners' sugar and beat again until the mixture is smooth and silky. Beat in the egg yolks, followed by the salt and any dried fruits, zest, nuts or seeds. Reduce the mixer speed to low and add the flour, beating just until it disappears. Don't overdo it. Blend in whatever remaining flour needs blending with a rubber spatula. Turn the dough out onto a counter, gather it into a ball, and divide it in half. Wrap each piece of dough in plastic wrap and refrigerate for about 30 minutes.
On a smooth surface, form each piece of dough into a log that is about 1 to 1¼ inches thick. Wrap the logs in plastic and chill for 2 hours. (Wrapped tightly, the dough can be kept refrigerated for up to 3 days or stored in the freezer for up to 1 month.)
Position the racks to divide the oven into thirds and preheat the oven to 350°F. Grease two baking sheets. (That was Grandma's way. Today we use non-stick pans, parchment paper or silicone mats.)
While the oven is preheating, roll cookie logs in any coatings of your choice. Then, using a sharp knife, slice each log into cookies about ⅓ inch thick. (You can make thicker cookies, just bake them longer.) Place cookies on the baking sheets, leaving about ½ inch space between them.
Bake the cookies for 12-14 minutes, or until they are set but not browned. Transfer them to racks to cool.
---
Tom Antis has been a communications specialist with the Capital Region BOCES Communications Service since January 2008. He plans to enjoy a traditional holiday at home with his wife, children, family dog, and at least one big tray of Christmas cookies.