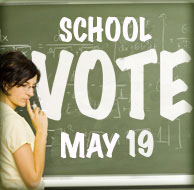 Few people argue against the value of a good education, and when it comes to the local school district, almost everyone has their opinion. Yet, in just a week, news media will likely report the record-low voter turnout for the annual school budget vote and school board elections.
Statistics from the New York State Board of Elections and the New York State Association of School Business Officials (NYSASBO) reveal that of the more than 11.7 million registered voters in the state, only 647,335 voted on last year's school budgets. That is a paltry 5.54 percent.
Last year, media reports after the May budget vote trumpeted the news that 98 percent of school budgets were approved. At the same time, NYSASBO's numbers show that voter turnout has declined every year since 2010.
With so much at stake – and our children's future is an "at-risk" biggie – why do so few exercise their right to play an important role in the direction of public education?
Tuesday, May 19, 2015, is the annual school budget vote and board of education election across New York state. Here are some good reasons why you should make it a priority to participate in your community:
1. Our children are important.
Not just your own children, but their friends, classmates, the neighbors' kids and those on the other side of town. They are coming of age in a complex world that will demand skills and the ability to learn new concepts; adapt to circumstances and successfully navigate their lives. School provides the opportunity to learn foundational facts and strategies to acquire and use knowledge. School prepares them to meet their future with confidence.
2. We are all on the same side.
Debates over education policy and funding create a divisive distraction to the actual mission of public education. The school is an important part of every community, a foundation stone that not only serves the important needs of our children, but also supports the local economy and community. The debates are important and it's encouraging that people care enough to engage, but let's remember we all want to accomplish the same goal: well-educated and prepared high school graduates.
3. The school needs you.
Every school district's board of education is made up of men and women who ideally want to create an exceptional educational opportunity for all the children in their community. They are elected to represent the views and values of the community; your views and values. They appreciate your input and feedback on their decisions. We need to elect qualified people who have a passion for students and education and an understanding of our community's ability to fund that education.
4. There is a lot of money at stake.
Whether the money comes from state aid (our tax dollars at work) or from local property taxes (again, our tax dollars at work), there is a significant annual expense to providing a safe, secure learning environment. Our input into decisions about how our money is used is valuable. Our votes decide what level of programming and services the school district will provide, balanced against what we believe we can afford to pay.
5. Our children are watching.
The way we engage with the world, through work, play and civic responsibility, provides the examples our children learn from. The right to vote, to participate in our democracy, should never be taken for granted. Embrace the privilege we have to have a voice, to show our children that their education matters to us and to demonstrate the power of democracy.
6. It's our turn.
When we were students, people cared enough to vote each May and support the schools we attended each day. Whether your experience in school was good or bad, we can all agree on the value of a sound, basic education. Now we have the responsibility to make sure our children have the tools and opportunities they need to succeed.
If you read this and shake your head, thinking your board is not motivated and your school does not measure up, why wouldn't you get involved? Every vote counts. One or two votes can decide the outcome of a local budget vote or school board election. You can make a difference.