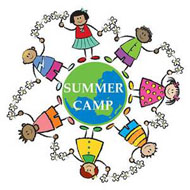 While growing up, summer always meant several things to me, no school, nice weather, family vacation, but most importantly, summer camp. Between camp and community events, there are plenty of activities where children can have fun while enriching their time away from school.
Summer is the perfect time to have fun with learning that focuses on the arts. Summer programs offered by schools, towns, museums, and theaters give local kids the opportunity to expand their creativity in many fun ways. These opportunities usually allow kids and families to get involved in the arts for free or at a low cost.
For children with a strong interest in art, music, drama or dance, there are summer camp programs that allow a concentrated week or two immersed in their preferred discipline.
Proctor's Theatre in Schenectady offers a Summer Jazz Institute as one example. The New York State Summer School of the arts offers programs in visual and media arts, choral and orchestral studies, theater and dance at venues around the state.
School districts frequently provide summer programs in many arts disciplines, from photography to silkscreen arts.
The variety of opportunities available allows families to customize summer arts experiences according to their particular interests and schedule. Active kids might enjoy taking a dance class, attending a performing arts camp or auditioning for a community performance like the Town of Manlius's production of Les Miserables this summer.
Other children might enjoy a summer class such as Fashion Illustration offered by the College of St. Rose in Albany.
Tech-savvy kids may enjoy STEAM camp, with the emphasis on Science, Technology, Engineering and Math – the STEM subjects – plus Art. STEAM is a movement championed by Rhode Island School of Design (RISD) to integrate the creativity of art and design into education and the STEM fields to drive innovation.
Park commissions often offer summer concert series' with different types of music from week to week. The whole family can enjoy a fun, and free activity. There are also many free plays and musicals performed in local parks and theaters. Shakespeare in the Park events are offered all over the state from Congress Park in Saratoga Springs to Thornden Park in Syracuse and Rochester's Highland Park Bowl.
Many larger venues host professional theater, orchestra and dance performances throughout the summer.
You don't have to travel to get artsy. There are homegrown ways for you, your kids and their friends to all enjoy arts-friendly activities in your own backyard.
Some ideas to consider:
Create an art box full of pencils, crayons, markers, paper, scissors, glue, etc. that can be pulled out whenever your child is feeling creative.
Look online for dance tutorials so children can learn a new routine. Make up an at-home play. Encourage kids to create their own characters and situations to act out, or recreate a favorite movie or book.
Experiment with a musical instrument. Maybe you have an old piano that no one plays or you can pick up a guitar at a garage sale. Summer may be too short to become a virtuoso, but with easy-to-print online music and videos to watch, kids and parents can work together at making clear notes and simple tunes.
Shoot a music video. Using a camera or a smartphone, capture your children and their friends lip-syncing to their favorite song, or encourage them to create and film their own music video. It is sure to spark a few laughs when you watch it later.
Create crafts and decorations. Be inspired by the summer holidays, a birthday or back-to-school theme. Your child can also make decorations for their room.
Download art and music education apps for a smartphone or tablet.
The arts teach kids creativity, the value of practice, self-expression and so much more. Summer months away from school is the ideal time for kids to tap into new and artsy activities, whether they pick up a paintbrush, put on a backyard play or play some music. Maybe they'll develop a lifelong appreciation for one of the new activities they try.
There are arts opportunities everywhere across the state, too numerous to list here. Check in at your local library or chamber of commerce for a list of local summer activities, or go online. Try Iloveny.com/events.
If your kids are serious about the arts, check out New York State Summer School of the Arts.
For other ideas, here are some additional resources:
---
Shannan Costello is interning for Capital Region BOCES Communications Service for a second summer. She is a senior at Marist College where she is majoring in Communications with a concentration in Public Relations and a minor in Global Studies. She has many interests in the arts, such as dance, painting, fashion and photography that were bred by numerous summer camps, hours spent in theater audiences and museum trips growing up. She has been fortunate to explore these interests further while studying abroad in Paris, France and Florence, Italy.