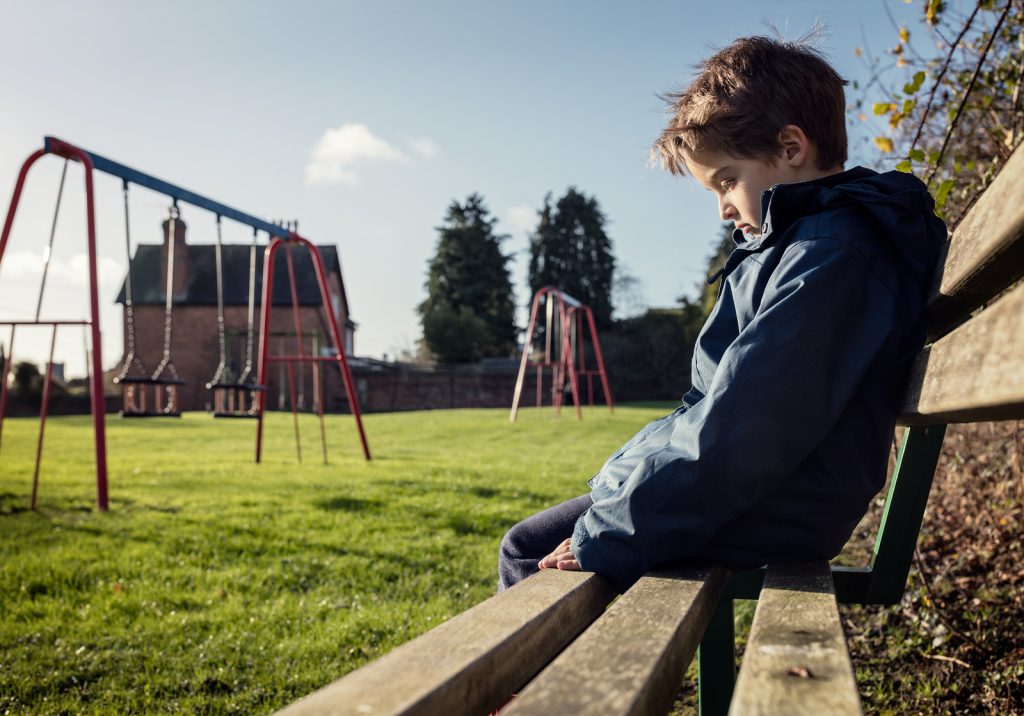 When my son was in first grade, he would come home from school and tell me he didn't play with anyone at recess.
"What did you do?" I would ask.
"Walk around," he would reply, very quietly.
"By yourself? Did you play with anyone?"
"No."
"How was the rest of your day?"
"Bad."
He looked so sad; my heart was breaking.
After a couple days of this, I emailed his teacher. She checked with the recess aide who said my son was playing with other children and seemed to be having a great time. Every now and then, he would wander off on his own, but in general, he seemed to be playing with his classmates, she said.
So what was going on, I wondered.
Sometimes when younger students experience a negative event, or a perceived negative event, that sets the tone for how they feel the entire day went, said Kathy Haley, an elementary school counselor with the Fayetteville-Manlius Central School District, Manlius, NY.
"Talk with your child and see if there is a pattern," Mrs. Haley said. "It may be that we are not seeing it, or it could be that there was a particular incident that the child is focusing on and that clouded their perception of the day. Our brains tend to focus on the negative."
I later found out that the daily recess kickball game was something my son really wanted to participate in, but he was afraid to ask to join because he didn't think he'd do well. That was the incident that clouded his day.
School officials encourage parents to reach out to their child's classroom teacher when they have concerns. The teacher may be able to give the parent additional insight into what happened on a particular day that could shed light on why a child came home feeling a certain way. School social workers, counselors and psychologists can also be a great parent resource. They can help to facilitate friendships since some children may need support in building and growing social relationships.
"Some children don't move as quickly through developmental milestones for a number of reasons," said Deanna Sargent, an elementary school social worker with the Stillwater Central School District, Stillwater, NY.
What schools can do
Stillwater teachers and school staff watch for signs that a particular student may need help interacting with classmates, said Mrs. Sargent, adding that she visits the playground during recess to watch how children are interacting. She talks with students about the importance of staying connected to the larger group, using the phrase "think with your eyes," which comes from Social Thinking Methodology.
"Look around and see what looks fun," she said, adding that they also discuss Social Thinking's "whole body listening," which means staying connected to the group and not wandering off alone.
For those students for whom approaching individuals or groups may be daunting, she said staff members coordinate lunch groups in which students talk about how to make friends, look friendly and take turns.
"Some kids just feel more confident in that small group setting," Mrs. Sargent said.
On the home front
At home, parents can ask their child if there is a peer he or she enjoys spending time with, or would like to play with, and set up a play-date. If the child doesn't name someone, Mrs. Sargent suggests asking the classroom teacher if there are any children your child seems to connect with.
During the play-date, she suggests staying nearby to listen to the interaction between the children.
"Some kids really need to learn how to play, and they need facilitating," she said. "If problems arise, you can model 'how-to' behavior."
Sargent also suggests looking for extracurricular or other activities that incorporate your child's interests, such as music or sports. But be strategic about the types of activities, she said.
"If they are not feeling a valued part of the team, it could backfire," she said. "It's important to find that thing that is going to make them feel good about themselves."
Activities such as gymnastics and martial arts, which offer a structured but fun and active component, can help some kids make connections to others as well as work on their own self-discipline, Mrs. Sargent said. And be prepared that it may take a couple of times before a child feels truly comfortable, or even be willing to actively participate, in an activity.
"Sometimes they need to go through a routine a couple of times," Mrs. Haley said.
She also suggests practicing with students the types of sentence starters they could use if they want to engage with another child. Sometimes kids just don't know how to initiate interaction with a peer. She suggests using sentence starters such as, "My name is . . ." or "It looks like what you're doing is fun. Can I play too?" Or if students are already doing something, Haley said she encourages them to invite others to join them.
Above all, keep the communication open between home and school. Parents and school staff members each have a piece of the story and by working together, they can come up with strategies that could help children foster positive relationships with their peers.
"We are a team," Mrs. Haley said. "Between the home and the school, teachers have part of the information, and parents have another part."
Things to keep in mind
Children with different social skills may require different support in developing friendships and connections to peers.
Shy children will need to learn to not respond to peer conflict with fear, worry and isolation.
Children with attention deficit hyperactivity disorder (ADHD) will need to be coached to slow down or filter their thoughts so that they can give their friend "a break" before being too direct or harsh.
Very physically active children will have to be sure to avoid hurting friends when frustrated and angered.
Children who have grown up in a home where a lot of anger is expressed or children who have experienced or witnessed physical violence at home will need specific skills to slow down their physical and verbal response to a threat.
Source: "What parents can do to support friendships," Healthychildren.org
---
Nancy Cole is a public information specialist and grant writer for Capital Region BOCES. She lives in Onondaga County with her second- and fourth-grade sons, both of whom love to make new friends.
Copyright ©2016 by Parent Today and Capital Region BOCES; Used with permission