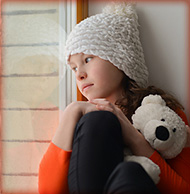 For most of us, the holiday season represents fun celebrations and warm memories. From school vacation to family get-togethers, holiday traditions to special treats, the weeks from Thanksgiving to New Year's Day are usually an exciting, and happy, time. For some children and families, however, the holidays can be stressful and difficult.
Complicated by divorce, loss of a parent or close relative, separation due to military service or family financial circumstances, the season can be a harsh reminder that many children's lives don't match the festive imagery all around them.
"Students who struggle with complicated life circumstances may feel it more sharply during the holidays," School Psychologist Caitlin Cleary said. "The stress doesn't just appear then, but it can certainly be amplified."
Cleary works with elementary and junior high school students in the Greater Johnstown School District, and says all children can benefit from support during the season when schedules become hectic and last-minute changes abound.
"Keeping some sort of routine for children is important, despite the chaos of holiday opportunities. Maintaining structure and some degree of predictability in your schedule helps kids feel a sense of control over their day," Cleary said.
Be realistic, Cleary adds. This year's holidays don't have to compete and compare with last year. As families change and grow, be flexible about adjusting traditions and rituals.
Cleary also emphasizes the importance of having someone to talk with. Just because it is the holiday season, it's OK not to feel festive and happy all the time and helpful to seek out support or at least a willing ear to listen.
Jennifer Sponnable is the school counselor at HFM PTECH, a Pathways in Technology Early College High School in Johnstown. The school's students are all deemed "at risk" by their home districts, and the school makes a priority of helping students with real world needs, like clothing and food.
Like Cleary, Sponnable says families should work to keep to a routine that maintains a degree of normalcy during the busy holiday season. She also stresses the importance of maintaining family holiday traditions, even if a parent is absent.
"Change is hard for everyone. Kids count on routines and traditions to provide a sense of grounding. No matter how much some things have changed, there is comfort in knowing that some things have remained the same," Sponnable said.
She warns against trying to compensate for an absent parent with extra gifts or promises of things you cannot produce.
"What most kids really want is time, attention and someone to hear them," Sponnable said. "But, don't promise that a parent can be there or will call if that decision is out of your control."
Sponnable also advises against trying to cram too much into the holidays. "Kids – as well as adults – can burn out with too much on their plate. Leave room in your schedule for quiet activities. Taking a walk, listening to music or watching a movie provides downtime together that helps relieve stress."
Dr. Michael Fraser, school psychologist at Johnstown High School, believes that kids find comfort in knowing they aren't the only ones going through difficult circumstances.
"It's helpful when children learn that adults have weathered tough times too," Fraser said.
Sometimes knowing that people around you can offer an empathetic and sympathetic ear is enough to get through a difficult season. "That shared sense of 'He's been in my shoes' can make a difference," Fraser said.
That's why, Fraser says, adults need to take care of themselves too during the holidays.
"Children watch adults for clues on how to handle things, especially in times of tension. If they see adults handling holiday stress appropriately, it provides an anchor for their responses. 'If he can do it, I can do it.'"
The holidays can bring out happiness and sadness in us all as we recall people and events from our past. Fraser emphasizes that it is OK to be sad about things and people we've lost, and it's important for our children to understand that grieving takes time.
"Most kids, even those dealing with loss or family transitions, can and do enjoy the holidays. However, patience, honesty and empathy can help reduce the stress and enhance the season for everyone," Fraser said.
Tips to reduce holiday stress
It can be difficult to maintain balance during a season characterized by excess. A survey by the American Psychological Association revealed that eight out of 10 Americans anticipated stress during the holiday season.
Experts encourage some simple steps to keep your family on an even keel during the holidays:
Don't buy into the hype. Holiday advertising can make you forget what the season is really all about. The best celebrations are about relationships and community, not elaborate gifts, decorations or food.
Plan ahead. Set a realistic schedule that allows you to do what you enjoy most. Make lists to avoid last minute scrambling for ingredients or gifts. Build in downtime to decompress.
Set a budget and stick to it. Memories of the holiday will be sweeter if you are not still paying for it in May.
If traveling, make sure children have a favorite stuffed animal, toy or game along for the trip. A little bit of home can help relieve stress on the road.
Stay healthy. Don't let holiday busyness and festivities derail good eating habits and exercise.
Get plenty of sleep. The excitement of so many holiday opportunities can push everyone to stay up late. Lack of sleep can make children, then adults, irritable and cranky.
Volunteer. No matter who you are, there is always someone with a greater need. Helping others is a gift to them and to you.
---
Copyright ©2015 by Parent Today and Capital Region BOCES; Used with permission