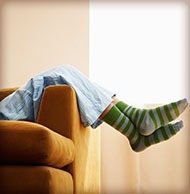 With only three weeks until the start of another school year, my two sons are relaxing on the couch, basking in the air-conditioning and watching television. Having just returned from swimming, there is not a thought in their heads about boarding the bus and going back to school in less than a month.
I, on the other hand, am in the kitchen, sweating over the cost of the latest Lebron James sneakers and my sons' back to school "lists," which are really inch-thick stacks of papers that I'm sure decimated a small forest somewhere.
I'm overwhelmed. And, apparently, I'm not alone.
Getting kids back to school can be just as stressful for parents as it is for students, says Jim Deschamps, a guidance counselor of more than 27 years. He's seen how back-to-school anxiety can grate on parents and, in turn, students.
"I think, a lot of times, parents don't realize how stressed they are about their children going back to school," Deschamps says from his office in Cobleskill-Richmondville High School, "but we see students who are stressed out just because their parents are so stressed out."
"It can be contagious," says Annette Landry, an assistant principal and guidance counselor of 19 years with the Berne-Knox-Westerlo Central School District.
Oh no, I think, am I stressing my kids out?
I walk to the living room, where my 7-year-old is laying upside down on the couch, watching Justice League cartoons on the iPad. His brother, 12, is fiddling with the strings on his lacrosse stick.
"How do you guys feel about going back to school?" I ask. "Are you excited? Nervous? Happy? Anxious?"
"Why, Dad?" my 12-year-old asks. "Are you anxious?"
"Yeah, Dad. Are you nervous?" the 7-year-old chimes in from behind the iPad.
That's it. I've tainted them.
I retreat behind the stack of supply lists and decide to take a walk, maybe get my infectious anxiety out of the house. Turns out, that's what your students' guidance counselors would recommend.
. . .
"If you want a better life for your student, you've got to make a better life for yourself," says Deschamps. "If you don't take care of yourself, you're not really in the best position to take care of your children's needs as they head back to school."
Landry and Deschamps recommend a dose of the same advice you give your kids in the weeks before school:
Get plenty of rest
Your work schedule may not change during your child's summer vacation, but your morning routine most likely does. Recognize that that the school day routine is probably going to be more taxing than the summer one – particularly for parents of elementary-aged children – and plan accordingly.
"Pack lunches and pick out clothes the night before school days," says Landry. "That way you can focus on your kids and establishing their morning routine."
Don't overschedule yourself
The weeks surrounding the first day of school are filled with orientations, meet-the-coaches nights and all manner of meetings, open houses and get-togethers. It can seem like there's not enough time to do everything you want. And that's OK, says Deschamps.
"If you know you're going to spend the night back-to-school shopping or at an open house, don't feel guilty if you miss Zumba," he says.
Be informed, be involved
Landry says that in her 19 years as a guidance counselor, the most anxious parents she sees are the ones missing some key information about their child's academic performance or behavior in school.
"Please don't be afraid to reach out to teachers and ask for feedback," she says.
Landry suggests scheduling parent-teacher conferences early and using whatever "parent portal" your school district offers to monitor your children's grades and attendance.
The interaction with your child's teachers and the rest of the school community will only serve to alleviate school-related anxiety in the long run.
"The more involved and informed you are, the less stressed you'll be," says Deschamps.
Create connections
Find friends and family who may also be stressed out about getting kids back in school and talk to them about it. This can create connections that can help you emotionally and logistically, says Landry.
"If you can build a solid social network with parents of kids in the same grade, you'll find that you have others to talk to, and possibly to help with rides to sports, field trips or other school activities," Landry says. "It can be a huge stress relief to know you have that support system in place."
Those connections don't end with other parents. Landry suggests having someone in the school that is your "go-to" person to call with questions, concerns, and to confide in. For many older students, this will be their guidance counselor, but for parents of younger students it could be their child's teacher.
Be realistic with your expectations
Make sure your vision of what you want for your child is a realistic one, says Deschamps, and recognize that what a teacher or guidance counselor identifies as priorities for your child may be different from your priorities.
"Parents sometimes have a preconception of how a child may do in school, and be stressed if things don't go that way. But it's our job to find out if your child is performing at the academic level he or she is capable of, and if not, why that's happening," says Landry.
Sometimes when a parent's expectation clashes with reality, it can create an adversarial and stressful relationship between the parent and the school. But Landry and Deschamps give their assurance that, ultimately, they want what parents want: successful kids.
"I want parents to know that schools are filled with people who are invested in the safety and success of their children," says Deschamps.
"The anxious parent should realize that their kids will grow up. They'll learn. They'll walk across that stage and graduate. They'll be productive members of society," Landry says. "It won't always be smooth, but they'll get there."
. . .
Back in my kitchen, my head cleared from my walk, I make a short to-do list: sign up for the parent portal, email the boys' teachers, and mark any open houses and orientations in my calendar.
I check in on the couch surfers.
"You two aren't anxious about going back to school?" I ask.
"We went last year, didn't we?"
That's true. They survived last year, and I did too. It may be bumpy at times, but there are people in that school rooting for them every day just like I am.
"Come on then," I tell them. "We'll go back-to-school shopping together. I'm going to need your help carrying all that stuff, anyway."
---
Bill DeVoe has been a communications specialist with Capital Region BOCES since 2011. His two sons, ages 7 and 12, are too busy holding the couch down to be anxious about school.
Copyright ©2015 by Parent Today and Capital Region BOCES; Used with permission