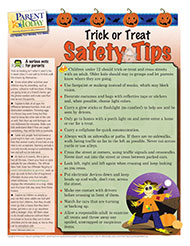 Halloween is just around the corner, and many young and not-so-young children enjoy a night prowling their neighborhood collecting candy and other treats. Parent Today wants everyone to enjoy a fun and safe trick or treat night, so we created a downloadable list of helpful tips for youngsters along with some precautions for parents.
Ghosts and monsters are not just a one-night thing for some kids. Many parents wrestle with helping their children manage fear all year long. We published an article last October that offered some good advice, and thought this was the right season to share it again.
Trick or Treat Safety tips (pdf)
I'm not afraid of that shadow under the stairs. Oh yes, I am!